Music
Christmas Albums 2020: What's on Our Playlist

From Tori Kelly to Maverick City Music, here are our favorite new releases by Christian artists.

Lauren Daigle's Christmas Cheer Doesn't Pause for a Pandemic

Ahead of her first televised special, the chart-topping Christian artist told CT her music has taken on special meaning in 2020.

The Trinity Is Missing from Christian Worship Music

While churches praise God from whom all blessings flow, they don't praise Father, Son, and Holy Ghost.

'The Blessing' Sung Around the World: 100 Virtual Choirs Spread Worship Anthem

How a familiar Old Testament benediction became a viral hit during the pandemic.

españolPortuguêsIndonesian
On Eliza Hamilton's Faith

You have no control who lives, who dies, who tells your story-- so let's not forget hers.

The Gospel Takes Center Stage in 'Hamilton'

As the hit Broadway musical makes its screen debut in a time of social unrest, its themes of hope and redemption resound all the louder.

Português
Bring Back Isaac Watts's Biggest Hit

You've probably never heard this famous hymn. That's a shame.

Indonesian
Singing in the Storm With Rain for Roots

The group's latest album offers a timely message for this global moment.

What Edith Blumhofer Taught Me on Writing About Strong Women

A tribute to a pathbreaking Pentecostal historian who also knew the value of a cannoli to a grad student.

Billie Eilish Can Help Us Understand Teenage Anxiety

The Grammy-award winning teen's dark music can help us have necessary conversations with our children.

There is a Balm in Gilead: A Missional Strategy for Churches in the 21st Century

What is the church to do in such a tumultuous climate of rapid change?

Sing to the Lord, All the Earth (and Minnesota)

Listen: Immigrant congregations bring diverse worship to the Lutheran Midwest.

One-on-One with Andrew Peterson

Christ's love enables us and calls us to do more than just create. It enables us, by his power, to redeem.

Our Favorite New Christian Christmas Albums of the Year

Mix up your holiday listening with releases from Phil Wickham, Audrey Assad, and others.

Is November Too Early for Christmas Music?

While most Christian radio stations still wait until after Thanksgiving, Spotify proves that most listeners are busting out their jingle bells earlier than that.

What Kanye West's Sunday Service Taught Me About Grace

When I visited Kanye's Sunday Service, I was met by contradiction, a mix of characters, and a spiritual lesson.

One-on-One with Keith Getty on SING! An Irish Christmas, Just Released Today

"High Christianity's positive contribution to artistic culture can actually spill into every area of our lives."

After His Son's Death, TobyMac Tells Fans: 'We Follow God Because We Love Him'

Truett Foster McKeehan, 21, performed his first hip hop show a week before he died.

Andrew Peterson: Creativity Isn't Just for 'Creatives'

Artists and storytellers cultivate beauty and mystery. So do teachers, parents, and church potluck planners.

Master's Seminary Grad Takes Kanye's Crowds to Church

How the pastor of a small, nondenominational Bible church ended up in Kanye's circle.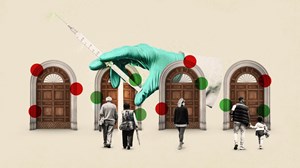 Where Two or More Are Vaccinated: Advice for Churches in 2021
Five science-based suggestions to gather and worship safely as COVID-19 vaccines roll out.
Browse our Full Library of online archives, including past issues of CT magazine. Access the Archives