Calvary Chapel
The Calvary Chapel movement started in the 1970s as an outgrowth of founder Chuck Smith's ministry in the Jesus Movement. Smith had been a pastor in the charismatic Foursquare denomination, but he became fed up with denominational control. Today, there are more than a thousand Calvary Chapels worldwide, though Smith has remained opposed to forming an official denomination.
Featured Articles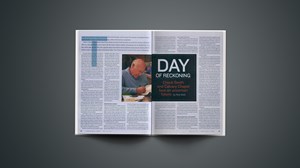 Day of Reckoning
Chuck Smith and Calvary Chapel face an uncertain future.
Documentary of a Hippie Preacher
A documentary about Lonnie Frisbee, a key figure in the Jesus Movement and the growth of Calvary Chapel, is making the rounds at film festivals. We talked to the director about Frisbee, who died of AIDS in 1993.
Unaccountable at Calvary Chapel
Former pastor still pulled strings years after his departure, Calvary of Albuquerque members claim.
loading more