Catholicism
Though the relationship between Protestantism and Roman Catholicism has long been marked with animosity, the past two decades have seen the two groups move to a better understanding of the other—and in some cases, collaborate together. The 1994 formation of Evangelicals and Catholics Together, led by evangelical Chuck Colson and Catholic Richard John Neuhaus, was key in this process. In more recent memory, Catholics and Protestants have united in the political arena to bring joint concerns about healthcare (specifically the contraception mandate) and religious liberty to light.
Featured Articles
The Confidence of the Evangelical
Why the Spirit, not the magisterium, will lead us into all truth.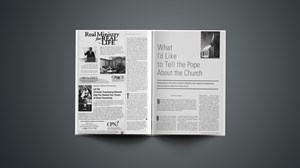 What I'd Like to Tell the Pope About the Church
Responding to the main criticism Catholics have against evangelicals: that we have no doctrine of the church.
loading more