A Cave of One's Own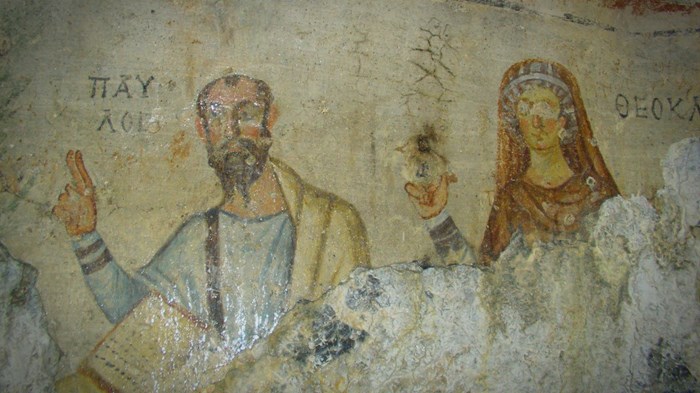 One of the (relatively few) criticisms we received regarding our current issue, Antony and the Desert Fathers, was that we slighted the contributions of women. The only woman featured in the issue is Macrina, founder of an all-female monastery, who has an entry in the Gallery. There are others we probably should have researched further, including Melania "the Elder" and her granddaughter Melania "the Younger," who both founded monasteries on the Mount of Olives. However, comparatively few women seem to have been significantly involved in early monasticism, and little is known about those who were.
A look at a woman named Thecla highlights the difficulty of reporting on early female monastics. Though she is mentioned by Cyprian, Eusebius, Augustine, Gregory of Nazianzus, Chrysostom, and other luminaries, the recorded details of her life are both sketchy and fantastic. The book that is pretty much the sole source of her story, the Acts of Paul and Thecla, was long ago dismissed as apocryphal, and its authorship has never been reliably established. Like other ancient "lives of the saints," it's an example of "history" written before demarcation between fact and fiction was deemed important—a fuzziness that, remarkably, is making a comeback (read that new Reagan bio yet?).
According to the Acts, Thecla was an 18-year-old betrothed virgin when Paul (yes, that Paul) came to preach in her hometown of Iconium. She could hear him preaching from inside her house, and she was so amazed at his message that she sat, "like a spider's web fastened to the window," for three days without food or water. Her mother entreated her to ignore the preacher, whose message included a strong ...
You have reached the end of this Article Preview