Eat, Drink, and Relax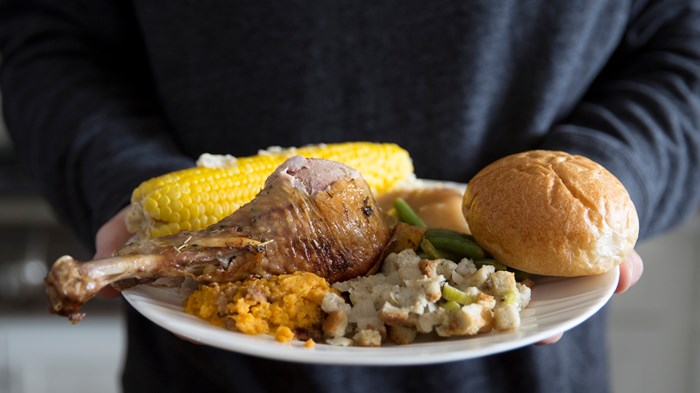 This article originally ran in November, 2001.
I'm sure Thanksgiving Day church services are lovely, but I have to admit that I've never been to one. In my family, Thanksgiving means watching parades and football games, cooking, eating, and maybe playing a few games of pinochle. Aside from the pre-dinner prayer, it's not an overtly religious celebration.
Neither was the so-called "First Thanksgiving" in 1621.
The Separatists (only much later known as "Pilgrims") who founded Plymouth Colony in 1620 disdained most holidays. In fact, they recognized only three: the weekly Sabbath, the Day of Humiliation and Fasting, and the Day of Thanksgiving and Praise. The latter two were not set on the calendar but could be proclaimed in response to God's perceived disfavor or favor. Because colonial life was so bound to the growing cycle, though, fast days were most often called in the spring, when there wasn't much to eat anyway, while feast days often accompanied the fall harvest. Both observances occurred on weekdays—usually the day of special sermons known as Lecture Day, which was Thursday in Massachusetts.
But the famous feast shared by about 50 colonists and 90 Wampanoag Indians was not an official Day of Thanksgiving. In the only surviving firsthand account of the meal, Edward Winslow describes it this way:
"Our harvest being gotten in, our governor sent four men on fowling, that so we might after a special manner rejoice together after we had gathered the fruit of our labors. They four in one day killed as much fowl as, with a little help beside, served the company almost a week. At which time, among other recreations, we exercised our arms, many of the Indians coming amongst us, and among the rest their greatest king Massasoit, with some ninety men, whom for three days we entertained and feasted, and they went out and killed five deer, which they brought to the plantation and bestowed upon our governor, and upon the captain, and others. And although it be not always so plentiful as it was at this time with us, yet by the goodness of God, we are so far from want that we often wish you partakers of our plenty."
Such entertainments as hunting and arms exercises had no place in a religious Thanksgiving observance. They did belong, however, in the long tradition of harvest festivals, with which the Separatists would have been quite familiar. In their native England, days of feasting and leisure commonly followed the harvest. Earlier harvest festivals include ancient Greek Thesmophoria, ancient Roman Cerealia, and Jewish Sukkot.
(This is not to say that the Separatists' 1621 feast had more in common with pagan Thesmophoria than with their first Christian Thanksgiving, which they observed in 1623 to celebrate a crop-saving rainfall. In the Separatist worldview, shared in almost all particulars by the wider Puritan community, nothing fell outside the experience of faith. As Leland Ryken wrote in Worldly Saints: The Puritans As They Really Were (Zondervan, 1986):
"Puritanism was impelled by the insight that all of life is God's. The Puritans lived simultaneously in two worlds—the invisible spiritual world and the physical world of earthly existence. For the Puritans, both worlds were equally real, and there was no cleavage of life into sacred and secular. All of life was sacred."
In other words, whether you go to church on Thanksgiving or not, the day can be seasoned with what Puritan divine Richard Baxter called "a drop of glory." As Paul and David said, "The earth is the Lord's, and everything in it" (Psalm 24:1, 1 Cor. 10:26).
» For everything you ever wanted to know about Plymouth Colony and the first Thanksgiving(s), go to www.plimoth.org.
» For more on the American Puritans, see Christian History & Biography's issue 41.
Elesha Coffman was managing editor of Christian History & Biography. She is now working on a Ph.D in church history from Duke University. To contact the editors of Christian History & Biography, e-mail us at cheditor@christianitytoday.com. Subscriptions to the quarterly print magazine are also available.