Robert Webber's Ancient-Future Legacy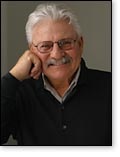 This slideshow is only available for subscribers.
Please log in or subscribe to view the slideshow.
Dr. Robert Webber said, "Evangelicals will do well to affirm a Christianity that has a deep kinship with the faith of the early church. … The challenge for us is to return to the Christian tradition." Last week this well-known theologian and early-church advocate died of pancreatic cancer at age 73. During his life, Dr. Webber revived evangelicals' interest in the early church through his Ancient-Future book series and his many years of teaching at Wheaton College and, more recently, Northern Seminary. Most recently, he organized "A Call to an Ancient Evangelical Future" urging evangelicals "to strengthen their witness through a recovery of the faith articulated by the consensus of the ancient Church and its guardians in the traditions of Eastern Orthodoxy, Roman Catholicism, the Protestant Reformation and the Evangelical awakenings."
In tribute to Dr. Webber, this week's Christian History & Biography newsletter contains excerpts from a few of his books and statements from those who knew him or were influenced by him.
Looking backward, moving forward
"Classical Christianity was shaped in a pagan and relativistic society much like our own. Classical Christianity was not an accommodation to paganism but an alternative practice of life. Christians in a postmodern world will succeed, not by watering down the faith, but by being a countercultural community that invites people to be shaped by the story of Israel and Jesus.
"We now live in a transitional time in which the modern worldview of the Enlightenment is crumbling and a new worldview is beginning to take shape. Some leaders will insist on preserving the Christian faith in its modern form; others will run ...
You have reached the end of this Article Preview