The "Praise and Worship" Revolution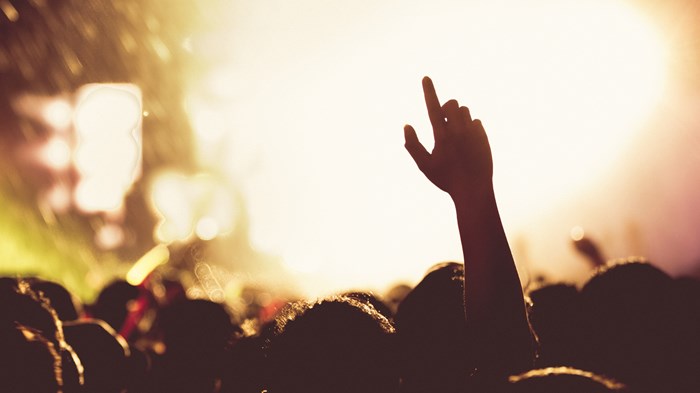 Arguably the single biggest alteration in the life of the average evangelical congregation within the last 30 years has been the sweeping change in the music that is played on Sunday morning. Where organ and piano, formal choirs, and vocal soloists and groups once held sway over a slowly-changing canon of staid hymnody and peppy gospel songs, a flood of guitars and "praise choruses" suddenly came rushing in during the 1970s. An irresistible, grassroots, pop-culture-driven force met the immovable object of tradition and sentiment, and the ensuing years saw no shortage of conflict and controversy as a result.
In telling this history, people often conflate the rise of "praise music" with the rise of "Jesus Rock" and its later avatar, "Contemporary Christian Music" (CCM). This is somewhat misleading. While the two subsets of music both trace their origins back to the 1960s Jesus People movement, their different settings and purposes created two distinct musical trajectories. "Jesus Rock" was geared towards evangelism, apologetics, and entertainment. It owed its musical ethos to Memphis, Liverpool, and the rollicking rhythms of rock 'n' roll. "Praise" music, on the other hand, was a mellower brand of music aimed at corporate worship. It had more in common with Greenwich Village, the spirit of the folk hootenanny, and the ambience of a prayer meeting.
Reaching out to teens and hippies
In the late 1970s, Hiley Ward, the religion editor of the Detroit Free Press, took a nationwide tour of Jesus People communes and houses and observed that the young "Street Christians" were preoccupied "with new music." Ward was mystified by the absence of the old canon of sacred song in their midst: "Rarely do you hear any of the old-time hymns. They write their own."
While musical change was everywhere in Jesus People ranks, some key developments centered around one of the movement's earliest and most influential centers, Calvary Chapel in Costa Mesa, California. Under the leadership of its pastor Chuck Smith, the modest Pentecostal church took on a young hippie named Lonnie Frisbee as a missionary to the youth of Orange County. By the middle of 1968, the church was filling up with barefoot, blue-jean-wearing kids, and dozens of hippies and teenage runaways inhabited a string of communal homes sponsored by Calvary Chapel with names like the House of Miracles and Mansion Messiah.
The ministry of the "hippie preacher" Frisbee and the warmth and Bible teaching of "Papa Chuck" were winning converts, but one aspect of the Calvary Chapel experience that proved less appealing was its musical diet of traditional gospel songs and hymns. John Higgins, one of the co-leaders of the youth contingent (and later the founder and leader of the nationwide Shiloh commune), remembered that early-vintage Calvary Chapel music was hardly "something that made you just leave and go into another world." In fact, he found it "boring" and admitted that despite his zeal for his newfound faith he would sometimes come late "just to avoid the music."
A new brand of church music
Meanwhile, an exciting, spontaneous musical movement was beginning to emerge within the communal Jesus houses in Costa Mesa, Huntington Beach, and Riverside. "We sang every day," Higgins recalled; "people were making up new songs all the time." And the new songs were not chained to the traditional conventions of hymnody; members were writing gospel lyrics "to things like Coca Cola commercials." By June 1968, Higgins estimates, guitars were making regular appearances in Calvary Chapel's services, along with some of the songs grown in the communes.
The change in the atmosphere was palpable. Within a few months there was a distinctly new, contemporary tone to the worship at the burgeoning church. Swarms of youth were soon packing its 300-seat sanctuary for multiple Sunday services and several weeknight Bible studies. For many of the kids, this new brand of "church music"—simple, melodic, heavily reliant upon Scripture for its lyrics—was the key to their attraction. Tommy Coomes, a member of a down-on-its-luck hippie band named Love Song, recalled visiting the church for the first time and finding the music there utterly unique: "I knew each line even before it was sung. I wasn't used to simple music like this, but it blew me away! It was a music which drew people into the Lord's presence."
From "Seek Ye First" to Maranatha!
Not surprisingly, the church began to develop and attract a growing stable of in-house musicians and songwriters. One was Karen Lafferty, a Southern Baptist girl from New Mexico. Convinced that she should pursue a musical ministry, she gave up a lucrative gig serenading diners at a chain of Los Angeles surf-and-turf restaurants. Scrounging to find teens for guitar lessons, Lafferty quickly became discouraged. But after one particularly inspiring worship session and Bible study in the fall of 1971, she went home, picked up her guitar, and applied a tune to the words of Matthew 6:33:
Seek ye first the Kingdom of God,
And His righteousness;
And all these things
Shall be added unto you,
Allelu, Alleluia.
"Seek Ye First" became a major hit at Calvary Chapel and quickly spread by song-of-mouth to Jesus People homes, coffeehouses, and "fellowships" all over Southern California—and then across the country. By the mid-1970s, it had also begun to pop up in a number of mainstream evangelical congregations as well.
Two crucial decisions greatly aided the spread of the new style of worship music from Calvary Chapel outward. The first was Chuck Smith's gamble to use $2,500 of his own money to produce a "best of" Calvary Chapel record album in 1971—The Everlastin' Living Jesus Music Concert (later simply known as Maranatha! 1). The second was the subsequent creation of Maranatha! Music Inc., which not only brought forth a series of albums featuring Calvary Chapel artists and song collections, but also created a publishing entity poised to distribute Calvary Chapel sheet music and songbooks across North America.
A new era of worship
While the Jesus People movement faded by the late 1970s, the impact of its musical innovations continued to reverberate throughout the evangelical church. Hundreds of grassroots troubadours evolved into professional songwriters and "worship leaders." The Vineyard movement and old-line religious music publishers joined Maranatha! in creating their own praise-and-worship publishing entities. Seminars and worship workshops dotted the landscape, and many churches across the continent replaced hymnbooks with overhead projectors and—by the 1990s—big-screen video projectors.
But the change has not come without a fight: "Worship Wars" have become a fact of life as traditionalists battle champions of the new music, often resulting in separate worship services or the uneasy compromise of "blended worship." As the debris has begun to settle and as generations have waxed and waned, it is clear that Protestant musical expression has irrevocably changed. While organs still intone "A Mighty Fortress" and congregations continue to sing just one more stanza of "Power in the Blood," a new set of "standards" such as "He is Exalted" and "Shout to the Lord"—led by "worship teams" wielding guitars and electronic keyboards—have joined the ancient call to worship.
Larry Eskridge is associate director of the Institute for the Study of American Evangelicals at Wheaton College.