My Top Five Books on the First-Century Greco-Roman World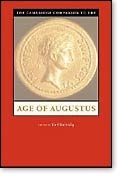 This slideshow is only available for subscribers.
Please log in or subscribe to view the slideshow.
The following books cover different aspects of the cultural context of early Christianity. The subject is broad enough that, as a friend of mine commented, "Fifty would be easier than five!" This list does not include general reference works, such as the Dictionary of New Testament Background, Oxford Classical Dictionary, and Dictionary of Judaism in the Biblical Period, 450 B.C.E. to 600 C.E.
The Cambridge Companion provides an up-to-date introduction to the period surrounding the life of Jesus. The book groups articles according to political history, intellectual and social developments, the impact of the emperor, art, and literature, and concludes with an appendix by L. Michael White on Herod and the Jewish experience.
Shelton offers a judicious selection of well-translated texts accompanied by brief introductions and numerous explanatory footnotes. She groups her 425 texts (mostly literary, but also inscriptional and papyrological) under these headings: the structure of Roman society, families, marriage, housing and city life, domestic and personal concerns, education, occupations, slaves, freedmen, government and politics, the Roman army, the provinces, women in Roman society, leisure and entertainment, and religion and philosophy.
For Jews and Christians, the destruction of Jerusalem and its temple in A.D. 70 was the most important political event of the first century. Goodman tries to answer the question of why the Jewish revolt of A.D. 66-70 occurred and to examine its consequences (antisemitism). Setting this event in ...
You have reached the end of this Article Preview