Dr. Luther, Rapmeister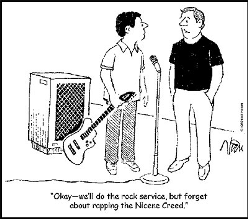 This slideshow is only available for subscribers.
Please log in or subscribe to view the slideshow.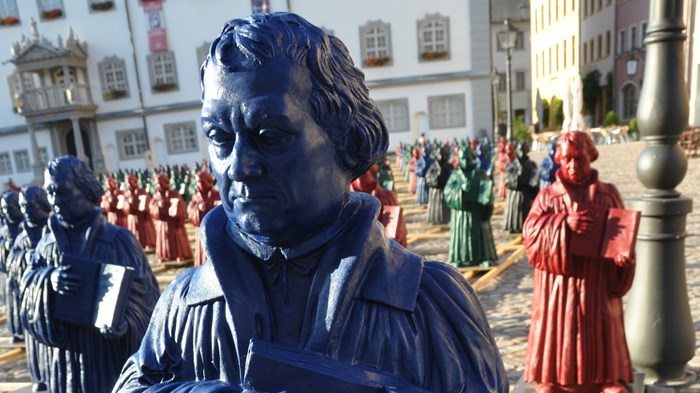 The Church Laughs e-newsletter frequently brings me a chuckle. A couple of years ago the lead cartoon featured a pastor talking to his worship leader. "Okay," says the pastor to the guitar-clutching musician. "We'll do the rock service, but forget about rapping the Nicene Creed." (Oh, the challenges of "blended worship"!)
As soon as I had chuckled at the cartoon, I realized there was a historical precedent. Others had already had set the creed to rhyming, rhythmic verse, hoping to make it memorable for worshipers. Tobias Clausnitzer (1668) and Cyril V. Taylor (1941) are among the lesser known writers to attempt this. The most famous was clearly Martin Luther ("We All Believe in One True God," 1524).
Now Martin Luther didn't write rap. Rap is not just rhyme and meter. Rap is also improvisation (and therefore a vehicle for personal statement and an opportunity to show off just a bit).Yet Luther, like rappers, placed a premium on the words over the music. Among his many hymns were didactic songs that helped the people learn their faith.
Luther's Shorter Catechism is well known as a brief and digestible guide to the faith. It was organized around what he considered the basics: The Ten Commandments, the Creed, the Lord's Prayer, Baptism, Confession, and the Sacrament of the Altar. If one understood these things, one could be an informed believer. One would be equipped to understand the gospel and to resist superstition.
It isn't surprising then that Luther would also write a hymn to convey each of these truths. The American Edition of Luther's Works comments on his Ten Commandments hymn ("These Are the Holy Ten Commands"):
We have become so accustomed to think ...
You have reached the end of this Article Preview