J. I. Packer, Man of God's Word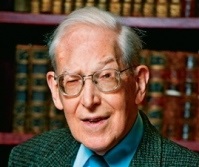 This slideshow is only available for subscribers.
Please log in or subscribe to view the slideshow.
History lovers have to appreciate a book that charts the evangelical future by looking back on the life and legacy of a great theologian. Of course, such a strategy of turning back to find your way forward perfectly suits J. I. Packer. As an accomplished historian and theologian, Packer finds cures for what ails contemporary evangelicalism by exploring the contributions of spiritual giants such as the Puritans. So we expect nothing less than prescriptive retrospective from J. I. Packer and the Evangelical Future: The Impact of His Life and Thought, a new book edited by Timothy George.
The book mostly compiles essays from a 2006 conference hosted by Beeson Divinity School. Presenters included Charles Colson, Mark Dever, Alister McGrath, Carl Trueman, and the CH blog's own David Neff. Not surprisingly, several of the essays touch on Packer's contributions to the doctrine of Scripture.
"This insistence on the Bible as the irreplaceable source for all adult catechesis in academic and church settings is arguably Packer's most important legacy to the future of evangelicalism," writes Paul House, Beeson's associate dean. "Without this emphasis Packer's catechesis makes little sense and will have little continuing impact, and the same is also true for evangelicalism."
In particular, Packer has contended for more than 50 years that evangelicals should hold to the belief that Scripture is infallible and inerrant. Denver Seminary associate dean Donald Payne writes, "It is difficult to overstate the importance of biblical inerrancy in Packer's theological method. According to this logic, obedient discipleship is possible only if Scripture functions inerrantly."
Packer elaborates on the biblical teaching, historical basis, and practical ...
You have reached the end of this Article Preview