God Bless Texas?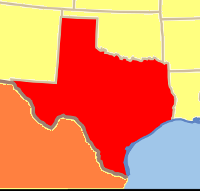 This slideshow is only available for subscribers.
Please log in or subscribe to view the slideshow.
I think five different people mentioned the same article to me earlier this month: "How Christian Were the Founders?" from The New York Times Magazine. Russell Shorto's long and generally balanced piece examines how one institution, the Texas State Board of Education, exerts tremendous power over the interpretation of such contentious issues as creation/evolution and the role of Christianity in the founding of the United States. It is a story full of ironies, not unlike American history itself.
Texas is a big state, and it orders a lot of textbooks. Textbook publishers cannot afford to tailor their products to every potential audience, so they often aim at the large target under the Lone Star. As a result, 15 people in Texas help determine the curriculum for much of the country. Who knew that an elected body including high school teachers, administrators, real estate agents, lawyers, and a dentist has more direct influence over public schools in this country than do the presidents of Ivy League universities?
Reality as the opposite of what you would expect is one kind of irony. Irony as unintended consequences, and irony as the juxtaposition of contradictory impulses, are also on display in Shorto's piece. Both appear in his discussion of the fabled wall of separation between church and state.
First, the unintended consequences. In 1801, a group of Baptists in Danbury, Connecticut, wrote to newly elected President Thomas Jefferson for some help on a church-state matter. Jefferson was no orthodox Christian—he famously excised everything he didn't like from his Bible—but all the Danbury Baptists cared about was that he was no friend of the established (state-supported) Congregationalist churches in New England. What the letter-writers ...
You have reached the end of this Article Preview