John Bunyan: The Man, Preacher and Author
John Bunyan (1628–1688) was born at Elstow, near Bedford, England, the oldest son of a tinker. His education was undoubtedly slight. He acknowledged —in fact, he emphasized—his humble birth: "my father's house being of that rank that is meanest and most despised of all the families in the land." This was hardly inverted snobbery; it was a way of attributing solely to God credit for what he had become.
When he was sixteen, Bunyan was summoned in a county levy for the Parliamentary army. What active service he knew is uncertain; no significant battles were fought near Newport Pagnell, where he was stationed, and Bunyan makes no reference to any specific military engagements. After approximately three years, his company disbanded and he returned to Elstow and continued to work as a tinker.

Bunyan was a lover of music but had little money for buying instruments. This lack failed to deter him: he hammered a violin out of iron and later carved a flute from one of the legs of a four-legged stool, which was among his sparse furnishings in his prison room.
He was married twice. His first wife, a person as poor as he, brought him a simple dowry of two well-known Puritan works, Arthur Dent's The Plain Mans Pathway to Heaven and Lewis Bayly's The Practice of Piety. What the name of his first wife was, history failed to record. Four children were born to this marriage, including a blind daughter Mary. His second wife, Elizabeth, was a magnificently brave woman who stood in the face of hostility from the powerful and pleaded the cause of John Bunyan, especially when she feared he would be jailed for his preaching. Elizabeth and John Bunyan had two children.
Bunyan etches his spiritual progress in a series of imperishable vignettes. His first ...
You have reached the end of this Article Preview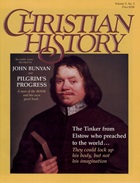 07/01/1986