Idelette: John Calvin's Search for the Right Wife
It is hard to say when the quest began. Until he turned 29 and took the pastorate of the French refugee church in Strasbourg, he hadn't much time to think about marriage. Besides that, he once wrote, "I shall not belong to those who are accused of attacking Rome, like the Greeks fought Troy, only to be able to take a wife." So he was in no hurry.
But Strasbourg was a bit of a refuge for Calvin. Shortly after he had arrived in the city, he moved in with Martin and Elizabeth Bucer. Martin was the warm-hearted pastor of the church of St. Thomas in the city. Elizabeth was as hospitable as he. Their home was known as "the inn of righteousness."
John Calvin had never seen such a happy marriage. Bucer was so pleased that he urged marriage for all his ministerial colleagues. "You ought to have a wife, Calvin," Martin had said more than once. Philip Melanchthon once noted that John Calvin seemed uncharacteristically silent and absent-minded at the end of a day-long conference. "Well, well," said Melanchthon, "it seems to me our theologue is thinking about a future spouse."

By this time, Melanchthon had been married for nineteen years, and his marriage was also a happy one. Mrs. Melanchthon, who had a rollicking sense of humor, took good care of Philip in every way. His only complaint, which he undoubtedly relayed to John Calvin, was "She always thinks that I am dying of hunger unless I am stuffed like a sausage."
Calvin, too, realized that he needed somebody to take care of him. When he moved out of the Bucer "inn," he rented a house for himself, his brother, his stepsister and some student boarders. He found it a strain, not only on his time but also on his sanctification, to manage a boarding house and serve as a pastor of a growing ...
You have reached the end of this Article Preview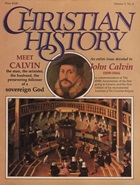 10/01/1986