True-Life Confessions: The Precedent-Setting Revelations of Augustine's Restless Heart
Perhaps Augustine is best-known for these words from his Confessions, but they are far from being the only meaningful or intriguing words in this precedent-setting autobiography.

Though written nearly 1,600 years ago, it still remains one of the most widely read religious works in the Western world. It offers keen insights into Augustine's life and a sharp understanding of the human heart. Western theology and culture owe a great deal to this unique autobiography.
Augustine may have intended his Confessions as a consecration of himself for his work in the church. He wrote it between 397 and 401 A.D., shortly after being named bishop of Hippo. Repeatedly he reminds himself that God resists the proud and gives grace to the humble.
A confession, by nature, brings an indictment against oneself before God. Appropriately, Augustine's Confessions takes the form of a prayer. Thus it is not merely a recital of his life story, nor does he melodramatically embellish the good in his life or deemphasize the evil. When we confess in prayer to God, who knows us better than we know ourselves, we are honest. And Augustine is painstakingly honest as he describes the profundities of the human heart. Sensitive readers will find, in his confession, a confession of their own.
The long prayer of St. Augustine consists of 13 books, or chapters, which may be divided into three major sections. Books 1–9 tell the story of Augustine's life up to his conversion and just afterward. Book 10 is a philosophical discussion of time and memory. Books 11–13 turn to the early verses of Genesis to explore the nature of God and creation and what it means to be human. Throughout each section, Augustine weaves together three major themes: the restlessness of human ...
You have reached the end of this Article Preview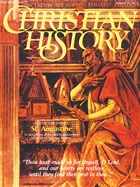 07/01/1987