What About Paul?
Scholars have long wrangled over the meaning of New Testament statements about the relative roles of women and men, and always central to the debate are the Apostle Paul's outspoken declarations. Was he a pragmatic libertarian, or an imposing legalist, or something in between?
The issue of women in church history bristles with controversy. Two groups fight it out. One holds that women have always, until recent years, had subordinate roles in the church. This was proper, these scholars say, because Paul clearly stipulated that women should be silent and submissive. Obviously, they say, the early church followed his instructions.
But the other group presents an impressive collection of women in leadership roles in the church's early centuries. It's surprising, they say, that any women could have such prominence in a maledominated society. They cite Jesus' tradition-breaking acceptance of women and assume that Priscilla, Phoebe, Lydia, et al., followed in that spirit.
Christianity's unique "servant-language" doesn't help much. Following Christ's example, the church avoided terms and titles that would suggest domination. Its leaders were simply "elders" and "deacons" (servants). That makes it confusing for modern-day detectives. When Paul calls Phoebe a "deacon," is he referring to a church office she holds? Most other uses of this word in the New Testament indicate church office. But some conservatives say this cannot be, in Phoebe's case, because Paul elsewhere limits the diaconate to men. We have similar confusion with the two ministrae arrested by Pliny in the 2nd century. Were these just helpers, as some historians assert, or were they "ministers"? The language could mean either.
The two positions thus have radically different ...
You have reached the end of this Article Preview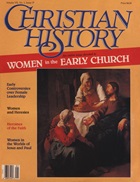 01/01/1988