The Life & Times of D. L. Moody
Most Americans today probably would fail even to identify Dwight Lyman Moody as a nineteenth-century evangelist. Yet during his day, he was internationally renowned. Moody often spoke to audiences of ten thousand to twenty thousand people. He presented the plan of Salvation, by voice or pen, to at least one hundred million people. D.L. Moody might well be considered the nineteenth century's "Mr. Protestant."
The Victorian Age
Moody was born in 1837, a few months before Queen Victoria began her reign, and he died in December, 1899, just nine days before the turn of the century. Moody's ministry took place in the Gilded Age, a period of dramatic industrial expansion, urbanization, and economic growth. One historian, obviously critical of both the excesses of the Gilded Age and evangelists like Moody, sarcastically wrote: "There was revivalist Moody, bearded and reckless, with his two hundred and eighty pounds of Adam's flesh, every ounce of which belonged to God." Such a narrow perspective, however, fails to understand Moody.
Moody was not only a product of his age, but also a herald of a new one. He pioneered techniques of evangelism that remain largely unchanged today. He proclaimed a new eschatology of premillennialism and fostered a new ecumenical spirit.
As one ponders Moody's deprived, rural boyhood, his career as an evangelist and educator, and his role as a father, he quickly sheds the image of a Victorian antique and emerges as a real person.
Moody's Youth
Moody's youth contains no hints that he would later become a famous evangelist. He was born in Northfield, Massachusetts, into a brick-mason's family. His father died when he was only 4, leaving his mother, Betsey, in charge of raising nine children, all under 13 years ...
You have reached the end of this Article Preview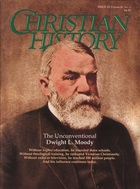 01/01/1990