The Salvation Army: A Missionary Crusade
When William Booth and his associates met in London in 1878 to transform their evangelistic organization, the East London Christian Mission, into The Salvation Army, they announced their reason in no uncertain terms: "The Christian Mission has met in Congress to make War. It has organized a Salvation Army to carry the blood of Christ and the fire of the Holy Ghost into every corner of the world." The first issue of their new, more militant magazine, at first called The Salvationist, described the fledgling Army as the people of God joined together "after the fashion most effective and forcible to liberate a captive world." The Salvation Army clearly saw itself from the beginning as a great missionary enterprise.
Vertical Mission
It is possible, however, to divide into two phases the process by which this zeal became truly universal. At first, the Army's leaders saw their work as not so much to spread the gospel far and wide as to spread it, so to speak, up and down: they intended to reach those depressed portions of English society that Booth believed had been neglected by other Protestant churches. The Army's mission was vertical rather than horizontal. In 1878 and 1879 when William and Catherine Booth and their close associates spoke of carrying "the Standard of the Cross into every part of the world" it was to the dark and dismal parts of the "world" of London and other great cities that they referred.
William Booth himself, and almost all of his pioneer associates (with the exception of his wife, who came from a prosperous family) had come to Army work from social backgrounds that ranged from the respectable working class, at best, to the ranks of the desperately poor. Their evangelical and social projects for the urban ...
You have reached the end of this Article Preview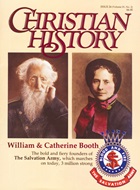 04/01/1990