The Story Behind Salvation Army Music
William Booth saw music as a means to an end. Christian music should attract people and speak the message of salvation to their hearts.
To Booth, music in and of itself had no moral force. The spiritual power of the associated texts, regardless of the tunes chosen (the contrast ranged from revivalist hymns to tavern-room ballads), made all the difference. Booth's approach to music was direct, simple, and practical. He advocated music that is attractive, carries a solid message, and, in the process, avoids the dangers of "sophisticated" church music making.
At its Fourth International Congress (1914), held two years after the founder's death, The Salvation Army could boast 1,674 brass bands (26,000 players) and 13,000 "songsters" (choir members) in 56 countries. The brass and vocal music of The Salvation Army was becoming a vast repertoire of published literature unmatched in the twentieth century by any other Protestant denomination. Today, many Army musicians and composers hold professional status at the top of their fields, and the best of their bands and songster brigades are truly excellent.
Army Music's Early Explosion
This was not part of William Booth's early vision for "salvation music." As in so much of Salvation Army history, growth occurred with no true human planning. Followers of Booth caught his dream of evangelizing the world and developed musical endeavors to aid in this holy task. Booth provided administrative controls, many times improvising as he and his staff kept pace with the phenomenal explosion of musical activity that accompanied the growth of his mission.
Beginning in 1865, William Booth's East London Christian Mission used musical tactics that would become inseparable from the idea of a "Salvation Army" ...
You have reached the end of this Article Preview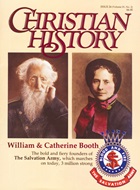 04/01/1990