William Booth's Officers
In his teens, William Booth encouraged a group of destitutes and roughs to attend his Wesleyan Chapel. Their visit—and their sitting in a conspicuous position—greatly offended the elders and congregation. Booth was strongly cautioned against a repetition.
This and similar acts made him unpopular in the Chapel. But from early on William Booth was not prepared to be dictated to on religious questions he felt strongly about. Booth felt himself to be of the poor, so he believed he could attract the poor; preachers should preach to their own class.
Upon taking charge of the Christian Revival Association in 1865, Booth employed, where possible, members of the working-class. He considered these the most likely to gain a hearing from their fellow workers. Thus, in 1870, when Booth was asked where his preachers for the Christian Mission would come from, he replied: "From the public houses. Men who have felt the fire will be the best men to rescue others."
The Working-Class
The use of working-class ministers was not a new concept. The Nonconformist denominations had for many decades accepted such ministers (though in considerably varying numbers). Church, chapel, and independent city missions were often led by men of working-class origin. The most recent research shows, however, that The Salvation Army had the greatest percentage of working-class people in its officer/minister ranks: 94 percent. (The next greatest percentage was among the Primitive Methodists, 56 percent of whose leaders came from the working-class. Numerically, however, the Primitive Methodists were the larger denomination.) Clearly The Salvation Army did not suffer from middle-class domination and the resulting social division between officers and people, as was the ...
You have reached the end of this Article Preview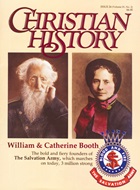 04/01/1990