Five Religious Options for Medieval Women
Christina of Markyate made a formal vow of virginity at age 14, in about the year 1110. Two years later her family, an upper-class, Anglo-Saxon family in England, forced Christina into a betrothal. She was kept in physical custody for a year, during which an ecclesiastical judge was bribed to set aside her vow of virginity. The marriage took place at last.
The resisting bride, however, would not consent to its physical consummation. She spent the night prepared for her deflowering recounting to her husband the story of St. Cecilia—the saint who had convinced her husband, Valerian, to live with her chastely until each could enter a monastery. Christina's husband had other dreams. The situation was at an impasse.
Christina then fled, with the aid of a local hermit. An anchoress (see "Terms of the Religious Life") named Alfwen hid her for two years. Christina was then moved to a hermitage at Markyate, where some male hermits lived, and they secreted her for four more years. Ultimately her family accepted that her resolve would not weaken. The marriage was dissolved, and Christina became technically free to live a more "normal" religious life.
By this time, however, the solitary lifestyle had become established. She became a hermitess, inheriting the site where she had hid for four years. In time a group of disciples formed around her, the hermitage becoming first a group household and ultimately a convent with Christina as abbess.
Christina's story takes us into all the types of religious life of her period. She was in turn a consecrated virgin, a recluse, a hermitess, and a nun. A traditional anchoress figures in her story as well. As her life illustrates, to be a bride of Christ was not necessarily to be a nun. Especially in ...
You have reached the end of this Article Preview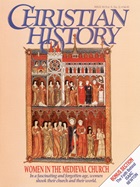 04/01/1991