Inside the Convent
In the letters of Paul, we find that some women among the first generations of Christians renounced sexuality, marriage, and motherhood to consecrate themselves to the service of God and the Christian community.
Their commitment represented a social revolution.
In the ancient world, women were not recognized as having any identity outside the family context. Even the handful of virgins who served the goddess Vesta at Rome were entered by their fathers and generally married when they retired from service. Yet the Christian virgin (or widow, as the case might be), made for herself a recognized and respected place within the fledgling church.
Front-Lines Soldiers
During the centuries when the church suffered intermittent persecution by secular authority, these consecrated women played a vital role in Christianity's preservation and spread. They turned their homes into shelters for wandering preachers, presided over religious meetings of an indeterminate nature, and performed charitable works—distributing alms, nursing the sick, and visiting prisoners. When martyrdom became inescapable, women were in the front lines of the soldiers of Christ. The second and third-century apocryphal gospels indicate that a common cause of Christian women's execution was their refusal to obey the Roman law of obligatory marriage.
This "virginity" movement was not an ascetic movement. Some Christian Fathers of the third century criticized consecrated women for their worldly dress and social activities. Tertullian, in particular, rebuked their claim that renunciating sex entitled them to preach and act publicly as freely as men. He maintained that consecrated women had not escaped the boundaries limiting the public activity of women. Rather, by making ...
You have reached the end of this Article Preview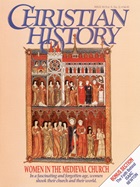 04/01/1991