The Forgotten Wesley
Imagine the cameras are rolling for a new motion picture.
Scene 1–1736. A young man is taking an early morning bath in a Georgia swamp, when an alligator swims toward him.
Scene 2–1709. Flashback. A toddler is being rescued from an English house engulfed in flames.
Scene 3–1738. A man in his early thirties is speaking to an august audience at the University of Oxford.
Scene 4–1744. Angry townspeople are hurling stones at the man, now nearing middle age.
Shall we cast Richard Chamberlain or Michael York to play this fascinating character who will speak on more than one occasion to crowds exceeding ten thousand people?
Who is this Englishman who, according to Frank Baker, averaged writing ten poetic lines a day for fifty years? Who wrote 8,989 hymns, ten times the volume composed by the only other candidate (Isaac Watts) who could conceivably claim to be the world's greatest hymnwriter?
Who is this poetic genius who produced "Hark! The Herald Angels Sing," "And Can It Be," "O for a Thousand Tongues to Sing," "Love Divine, All Loves Excelling," "Jesus, Lover of My Soul," "Christ the Lord Is Risen Today," "Soldiers of Christ, Arise," and "Rejoice! the Lord Is King!"?
It is "forgotten" Charles Wesley.
Premature and Precocious
Charles Wesley was the eighteenth of Samuel and Susannah Wesley's nineteen children (only ten lived to maturity). He was born prematurely, and appeared dead, in December 1707. He lay silent, wrapped in wool, for weeks.
When older, Charles joined his siblings as each day his mother Susannah, who knew Greek, Latin, and French, methodically taught them for six hours. Samuel Wesley, Charles's father and Epworth minister, demonstrated some ability at poetry, for Alexander Pope commended his Dissertation on the Book of Job ...
You have reached the end of this Article Preview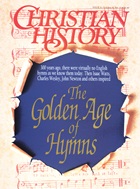 07/01/1991