A New Species of Christian Song
What gave rise to the English hymn in the eighteenth century? What determined its form and the way it worked? Many earlier texts were transformed into congregational hymns (for example, texts from the breviary, from the German tradition, and from Herbert and Milton). Yet the hymns of Watts must be our starting point. The roots of his hymns are the roots of hymnody in English. At least four major roots can be identified.
Psalms
Throughout the eighteenth century, metrical psalms continued to influence the English hymn. It's a safe bet that the majority of the singers who sang Watts's texts knew the bulk of the psalter by heart. We know that Wesley and his singers sang psalms in Church of England worship. The psalms were at least as familiar to eighteenth-century hymn singers as our own Christmas carols are to us.
Images and even lines from the psalms recur in the hymns. When singing "Joy to the World" (Watts's paraphrase of Psalm 98), the Sternhold-and-Hopkins "Old Version" of the psalm must have been very much in mind especially when psalter tunes were used. If modern congregations are alert to any changes in wording, we can only imagine the critical response to an entirely new hymnody.
While we pretend to discriminate, it's often hard to distinguish hymns from psalms: in fact, the terms are often used interchangeably. Metrical psalms were updated and hymns were heavily biblical.
Isaac Watts's arguments for the new hymnody suggest that psalms were inadequate. We may well wonder. John Dryden's criticism of the old language of older poetry indicates that changes in the English language—as much as any innate limitations of psalmody—provoked Watts's dissatisfaction.
Indeed, the psalms are wonderful expressions of a wide range of devotional ...
You have reached the end of this Article Preview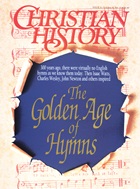 07/01/1991