Following in the First Christians' Footsteps
Many worship practices that meet us in the pages of the New Testament and early Christianity are tantalizingly obscure: Why were Christians being baptized for the dead? Why were women required to wear coverings on their heads? Why did believers wash one another's feet?
What do we make today of these and other practices? Should we continue them?
Many are clearly mandated, or fully described and valued, in the New Testament. Yet we find many of them difficult to fit into our contemporary worship.
Sometimes our problem is lack of knowledge. Much description of worship in the New Testament gives the impression that worship practices were developed ad hoc—occasioned by the needs of the hour. Sometimes we do not know the intended significance of various worship settings and occasions.
But often we can read the texts only too clearly. The question is, what principle is being illustrated and enforced? So we continue genuinely to puzzle over why early Christians practiced certain rites—and whether and how we should follow their lead.
Washing Feet
We might take as a helpful case study the practice of foot washing. The practice is prescribed in the New Testament and was observed in the early Christian communities. Yet it has been both practiced and neglected by churches in our day. Should foot washing be part of our worship?
The New Testament support for foot washing is found in John 13:4–5, 12–15: [Jesus] got up from the meal, took off his outer clothing, and wrapped a towel around his waist. After that, he poured water into a basin and began to wash his disciples' feet, drying them with the towel that was wrapped around him.…
When he had finished washing their feet, he put on his clothes and returned to his place. "Do you understand what ...
You have reached the end of this Article Preview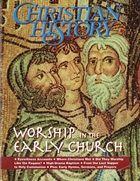 01/01/1993