From the Archives: Zwingli's Death on the Battlefield of Kappel in 1531
Heinrich Bullinger succeeded Ulrich Zwingli as pastor of the Grossmünster after the latter's death in the battle of Kappel in 1531. The following account of Zwingli's death was written by Bullinger.
On the battlefield, not far from the line of attack, Mr. Ulrich Zwingli lay under the dead and wounded. While men were looting … he was still alive, lying on his back, with his hands together as if he was praying, and his eyes looking upwards to heaven. So some approached who did not know him and asked him, since he was so weak and close to death (for he had fallen in combat and was stricken with a mortal wound), whether a priest should be fetched to hear his confession. Thereat Zwingli shook his head, said nothing and looked up to heaven. Later they told him that if he was no longer able to speak or confess he should yet have the mother of God in his heart and call on the beloved saints to plead to God for grace on his behalf Again Zwingli shook his head and continued gazing straight up to heaven. At this the Catholics grew impatient, cursed him and said that he was one of the obstinate cantankerous heretics and should get what he deserved. Then Captain Fuckinger of Unterwalden appeared and in exasperation drew his sword and gave Zwingli a thrust from which he at once died. So the renowned Mr. Ulrich Zwingli, true minister and servant of the churches of Zurich, was found wounded on the battlefield along with his flock (with whom he remained until his death). There, because of his confession of the true faith in Christ, our only Saviour, the mediator and advocate of all believers, he was killed by a captain who was a pensioner, one of those against whom he had always preached so eloquently.
Next day, Thursday (12 October), at daybreak, ...
You have reached the end of this Article Preview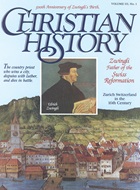 01/01/1984