The Crusades: A Gallery of Martial Monks & Holy Kings
Bernard of Clairvaux
(1090–1153)
The "theologian of love" who preached war
Bernard, the son of a crusader, was a model monk. While young, he fasted so much he damaged his health, causing lifelong digestive problems. He reportedly studied the Bible and worshiped more than half of each day. He said Christ came to him in visions.
His spiritual intensity made for penetrating sermons, letters, and hymns. His essay "On Loving God" is one of Christian literature's most eloquent on the subject. In it, Bernard writes, "God himself is the reason why He is to be loved."
This same Bernard, in 1128, convinced church leaders to recognize a new order: fighting friars known as Templars. Though they took vows of poverty and chastity, these military monks were allowed to kill. They defended the pilgrim roads in Palestine.
Bernard was a powerful preacher, perhaps the greatest of his time. At times, he could be blunt. To the pope he wrote, "You have been entrusted with stewardship over the world, not given possession of it." To crusaders fighting the pagan Wends in Germany, he insisted on no truce until "either their religion or nation shall be wiped out."
Pope Eugene III, a former student of Bernard, enlisted his mentor to rally the people behind the Second Crusade. In his sermons and promotional letters, Bernard declared, "God arranges for himself to be in need, or he pretends to be, so that he can award to those fighting for him wages: the remission of their sins. … Take the sign of the cross. … If the cloth itself is sold it does not fetch much; if it is worn on a faithful shoulder, it is certain to be worth the kingdom of God."
Response to his 1146 Easter sermon was so enthusiastic, he ran out of cloth crosses to pass out. So he tore pieces ...
You have reached the end of this Article Preview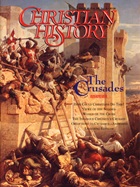 10/01/1993