Christianity on the Early American Frontier: A Gallery of Trendsetters in the Religious Wilderness
Barton Warren Stone
(1772–1844)
The Bible-only man
"The Bible only" was the rallying cry of Barton Warren Stone, a cry that led him to question orthodox doctrine and create a new church whose members would be called merely "Christians."
After his father died, young Barton invested his portion of the estate in education. He studied law in Greensboro, North Carolina, and while there sat under the preaching of Presbyterian evangelist James McGready. After three years, Stone set aside his legal ambitions and took up preaching.
He headed west and became the pastor of two Presbyterian parishes, in Concord and Cane Ridge, Kentucky. He was troubled by the spiritual acedia in his parishes, so when he heard about a revival in southwestern Kentucky, he went there to see what it was about.
He returned home enthused, and within months, a revival had erupted in Stone's parishes; in August of 1801, it reached its climax at Cane Ridge. An estimated 20,000 listened to revival preaching and responded by shouting, dancing, singing, and collapsing: "With a piercing scream," Stone said, people would "fall like a log on the floor, earth, or mud, and appear as dead."
Since many of his Presbyterian colleagues frowned on such emotionalism, Stone and four others formed the independent Springfield Presbytery. But in less than a year, they dissolved it because they believed each congregation should be independent, guided by nothing but the Bible.
When his wife died in 1809, Stone was left with four daughters, the oldest of whom was 8. He put them into the care of friends until he remarried so he could devote his "whole life gratuitously to the churches, scattered far and near."
In 1830 Stone met Alexander Campbell, another Presbyterian-turned-independent who ...
You have reached the end of this Article Preview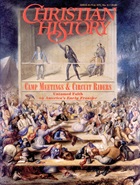 01/01/1995