Counter-Culture Christianity
The age of revivals and circuit riders saw the comet's tail sweep across America and dazzle everyone with visions of glory. Europeans visiting the American wilderness and encountering a revival firsthand were convinced that Americans had gone mad. But the ecstasy was evident far beyond the shouts and jerks of the camp meetings.
In a letter to Thomas Carlyle in the Autumn of 1840, American essayist Ralph Waldo Emerson tried to describe New England to his English friend: "We are all a little wild here with numberless projects of social reform. Not a reading man but has a draft of a new community in his waistcoat pocket."
Revivals were the big story but not the whole story. Revivals whetted the country's appetite for an immediate encounter with God. But here and there a visionary took to creating a Christian community where every detail of daily living could be ordered by God.
In the half-century before the Civil War, about 120 social experiments were founded, and a few dozen became celebrated, though temporary, successes: New York claimed the Oneida community; Ohio had its Zoar; the Shakers were in Kentucky; Brook Farm in Massachusetts; Amana in Iowa; and a black utopia, Nashoba, appeared in Tennessee.
These religious communities agreed to hold their property in common, just as the apostles had apparently done in early Judea. They insisted that God called for a distinctive people reflecting the kingdom of God in all essentials of economic and family life, an earthly model of life in the heavenly kingdom.
Let me illustrate with some of the best-known examples.
Shaking Quakers
Perhaps the best-known of these religious communities today are the Shakers. Antique lovers everywhere treasure the graceful, simple lines of Shaker furniture ...
You have reached the end of this Article Preview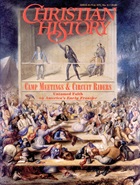 01/01/1995