Holy, 'Knock-'Em-Down' Preachers
In 1802, 26-year-old Jacob Young began a new Methodist preaching circuit along the Green River, a vast and growing region of central Kentucky. Knowing he could count on little help from his supervising elder (a millwright who divided his time between his craft and itinerant preaching), Young devised his own strategy for evangelizing the region:
"I concluded to travel five miles, as nearly as I could guess, then stop, reconnoiter the neighborhood, and find some kind person who would let me preach in his log cabin, and so on till I had performed the entire round."
Near the end of one dreary day, Young came upon a solitary cabin in the woods. He spotted a woman in the doorway and asked for lodging, but the woman refused. Desperate, Young exclaimed, "I am a Methodist preacher, sent by Bishop Asbury to try to form a circuit."
"This information appeared to electrify her," recalled Young. "Her countenance changed, and her eyes fairly sparkled. She stood for some time without speaking, and then exclaimed, 'La, me! Has a Methodist preacher come at last?'"
The family were North Carolina Methodists recently migrated to Kentucky. Their home soon became a regular preaching appointment on Young's circuit.
This eager reception of a Methodist circuit rider was repeated over and over again in the late 1700s and early 1800s, so much so that Methodism experienced remarkable growth.
Early circuit riders were a different kind of clergy than had ever been seen in America, serving a rapidly expanding and spiritually hungry nation. They pursued their calling with remarkable zeal, forever changing the style and tone of American religion.
What was a circuit rider's life like? And what was their collective impact?
Virtual Miracle
Along with the Baptists, the ...
You have reached the end of this Article Preview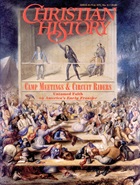 01/01/1995