Bald, Blind & Single?
1. What Did Paul Look Like?
He was a bald-headed, bowlegged short man with a big nose, and an unbroken eyebrow that lay across his forehead like a dead caterpillar.
That's a paraphrase.
It's from the only physical description of Paul, in an early Christian document, the Acts of Paul. (Its author, a second-century church leader, was fired over the book because he attributed to Paul some unorthodox teachings such as sexual abstinence in marriage.)
A more literal translation of the description of Paul in Greek reads, "A man of middling size, and his hair was scanty, and his legs were a little crooked, and his knees were far apart; he had large eyes, and his eyebrows met, and his nose was somewhat long."
This may be little more than imaginative writing from a century after Paul died, but it does not clash with the way Paul's critics described him: "His letters are weighty and forceful, but in person he is unimpressive" (2 Cor. 10:10).
2. Was Paul Married?
Probably not. But because Paul said almost nothing about this, there's plenty of room to debate the matter.
When counseling singles and widows at Corinth, he wrote, "It is good for them to stay unmarried, as I am" (1 Cor. 7:8).
But when listing the rights of an apostle and arguing on behalf of himself and Barnabas, he said, "Don't we have the right to take a believing wife along with us, as do the other apostles and the Lord's brothers and Cephas?" (1 Cor. 9:5).
In interpreting this statement, some scholars say Paul's question, taken with his statement that he was unmarried, suggests he was a widower who had at least occasionally traveled with his wife. Others see Paul using this question to emphasize ...
You have reached the end of this Article Preview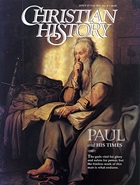 07/01/1995