Anabaptism: Neither Catholic Nor Protestant
What Anabaptists Believed— What Is a Christian
For Anabaptists, as for all other Christians in the sixteenth century, Christian faith had been revealed to men by God. God was the author of it; the mediator of it was Jesus Christ.
By Jesus' death, which was an expression of the love and mercy of God, sin is removed and man is forgiven. Man's own merit achieves nothing for he has none before God. Life in Christ is a gift of God's grace. Jesus Christ is the saviour of man, and man is saved by faith in him.
But to accept him as Saviour is only the beginning of faith. Obedience to Christ the Lord is an integral part. As Hans Denck affirmed in his first public statement:
This obedience must be genuine, that is, that heart, mouth, and deed coincide together. For there can be no true heart where neither mouth nor deed is visible.

Christ's life served as the model of a God-pleasing life. "Let Christ Jesus with His Spirit and Word be your teacher and example, your way and your mirror." In thousands of passages in Anabaptist writings, there is a call for a concrete following of the example of Christ.
Anabaptists made a great deal of the new commandment of love in John 13:34; the fulfillment of which was a mark of "genuine faith and true Christianity." They insisted that the commandment of love was concrete and had to do with specifics in human life and experience. It meant forgiveness for injury, refusal to retaliate, refusal to injure, refusal to coerce. It meant aiding, supporting and defending the needy, comforting the sorrowing, preaching the Gospel to the poor. The commandment to love had content, they believed, usually identified as the ethical injunctions of Jesus and the apostles. And it was not a casual matter; it must be deliberately ...
You have reached the end of this Article Preview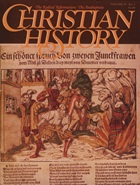 01/01/1985