An Army of Conservative Women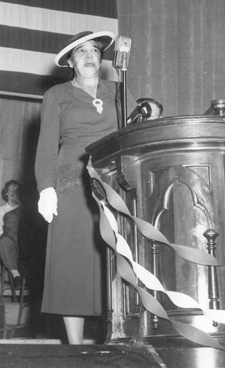 This slideshow is only available for subscribers.
Please log in or subscribe to view the slideshow.
The history of fundamentalism is primarily the story of men debating, men starting organizations, and men founding colleges and seminaries. But that is only part (albeit the largest part) of the story.
Women certainly played key roles behind the fundamentalist scenes. Ninety percent of Sunday school teachers were women; women raised millions for foreign missions; thousands served on the mission field; women led the fights for the poor, for women's suffrage, and for Prohibition.
Frances Willard founded the Women's Christian Temperance Union (WCTU), which grew to two million members by 1897. She called it the "largest army of women inside the realm of conservative theology."
Up-front females
Fundamentalist women also played up-front roles in the rising movement. A few fundamentalist institutions, especially in the late 1800s, supported women's preaching and ordination. In 1888 Christian & Missionary Alliance's (C&MA) Nyack College awarded its annual preaching prize to a woman. In those days, Moody Bible Institute (MBI) trained scores of women who became evangelists, preachers, and pastors. Gordon Bible College in Boston assigned female students to summer pastorates in rural New England to prepare them for what historian Janette Hassey calls "the wide ministry of [female] alumnae serving as preachers, pastors, and Bible teachers." The Salvation Army's Catherine Booth preached twice at Chicago's Moody Church.
Women were featured speakers at Bible and prophecy conferences, which were incubators for fundamentalism. D. L. Moody's Northfield Conference in 1880 featured popular women preachers such as Maria Gordon, leader of the Boston area WCTU. Winona Lake Bible Conference (with ...
You have reached the end of this Article Preview