Evangelism in the Early Church: Christian History Timeline - The Growth of Early Christianity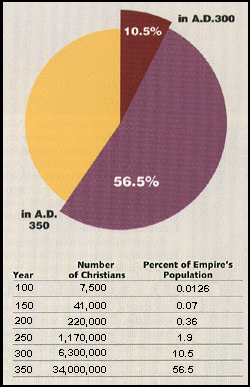 This slideshow is only available for subscribers.
Please log in or subscribe to view the slideshow.
The Explosive Decades
Percentage of Christians in the Roman Empire
c. 30 Death and resurrection of Jesus; coming of the Holy Spirit
c. 40-65 Missions of Paul and associates, especially to Gentiles
c. 40 The word Christians first used to describe believers in Antioch
c. 50-95 Books of New Testament written
70 Separation of Christianity from Judaism widens after capture of Jerusalem
c. 100-150 Writings of apostolic fathers show a concern with unity and good order of churches
c. 112 Pliny, governor of Bithynia, consults Emperor Trajan on how to deal with those accused as Christians
140 Justin founds school of Christian philosophy at Rome
165 Justin's martyrdom
c. 170 Celsus writes True Word, the first book opposing Christianity
180-200 Irenaeus of Lyons preaches to Celts in Gaul, refuting gnosticism
180 Clement heads school of "true gnosticism" in Alexandria
197 Tertullian begins writing apologetics in Carthage, Afica
c. 200 First mention of Christians in Britain
203 Martyrdom of Perpetua and Felicitas in Carthage
212 Origen begins traveling, commending Christianity to high ranking officials throughout the empire
c. 215 Hippolytus of Rome compiles the Apostolic Tradition, describing how converts are to be discipled
231 Origen founds school at Caesarea (Palestine)
c. 240 Gregory "the Wonder Worker" appointed bishop of Pontus (in north Asia Minor)
248 Cyprian appointed bishop of Carthage, the largest church in Africa, only two years after his conversion Origen defends Christianity in Against Celsus
250 Emperor Decius begins the first, though short-lived, general persecution of Christians
c. 260-305 Porphyry, a Neoplatonist philosopher, writes multivolume Against the Christians
270 Monasticism begins to spread in Egypt and ...
You have reached the end of this Article Preview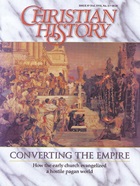 01/01/1998