Martin Luther King, Jr.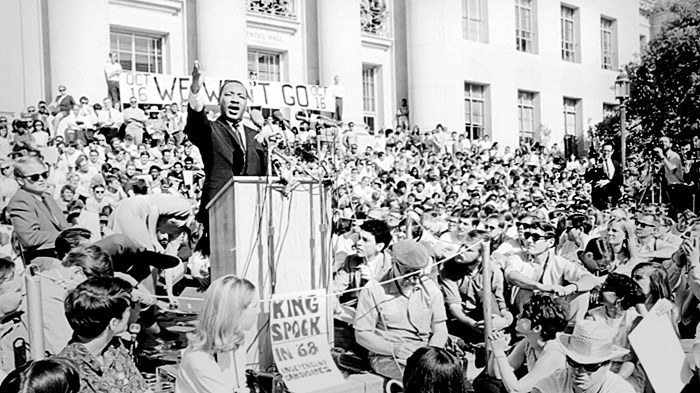 "We must keep God in the forefront. Let us be Christian in all our actions." So spoke the newly elected president of the Montgomery Improvement Association, which had just been organized to lead a bus boycott to protest segregated seating in the city buses. The president, and new pastor of Dexter Avenue Baptist, went on to say that blacks must not hate their white opponents. "Love is one of the pinnacle parts of the Christian faith. There is another side called justice, and justice is really love in calculation."
And so began his public role in the civil rights movement of the 1950s and 1960s. The movement produced scores of men and women who risked their lives to secure a more just and inclusive society, but the name Martin Luther King, Jr., stands out among them all. As historian Mark Noll put it, "He was beyond question the most important Christian voice in the most important social protest movement after World War II."
He was born in Atlanta, Georgia, in 1929 as Michael King, but in 1935 his father changed both of their names to Martin Luther to honor the German Protestant Reformer. The precocious Martin skipped two grades, and by age 15, had passed the entrance exam to the predominantly black Morehouse College. There King felt drawn into pastoral ministry: "My call to the ministry was not a miraculous or supernatural something," he said. "On the contrary it was an inner urge calling me to serve humanity."
From Morehouse he moved on to Crozer Theological Seminary (Chester, Pennsylvania) and Boston University, both predominantly white and liberal, where he studied Euro-American philosophers and theologians. King was especially taken with social gospel champion Walter Rauschenbusch, ...
You have reached the end of this Article Preview