Huguenots and the Wars of Religion: Did You Know?
Hu-gue-what?
No one knows for sure how French Protestants got the nickname "Huguenots" (pronounced HYU-ghe-nahts in America, HYU-ghe-nos in Britain). One theory proposes that the word was derived from German Eldgenosen, "oath fellows," which was used to describe a Genevan political movement. Or perhaps a leader of that movement, Besancon Hughes, lent his name to the group. Scholar Janet Gray, however, supports a more colorful—and philologically sound—theory. In Tours, an early Protestant stronghold, a spirit called King Huguon was believed to haunt one of the city's gates at night. Protestants held their illegal religious services near the same gate after dark. According to a manuscript from 1566, "The one who derived Huguenot from Huguon was a monk who, in a sermon reproaching the Lutherans, as those who met at night were called, said that it was necessary henceforth to call them Huguenots because they went out at night like him."
Creed-crossed lovers
The Saint Bartholomew's Day Massacre began soon after Protestant Henri of Navarre wed Catholic Marguerite of Valois. More than 400 years later, the prospect of a cross-confessional marriage once again sent shudders through the upper echelons of French society. In the summer of 2001, Chartres Cathedral was booked for the wedding of Duchess Tatjana d'Oldenbourg, a Protestant German aristocrat, and Jean d'Orléans, a Catholic noble who would be in line for the French crown if that country ever reinstituted its monarchy. But even though Jean is heir to only a theoretical throne, his family opposed the marriage, fearing it would undermine their legitimacy. Jean broke off the engagement.
Stranger than fiction
Cardinal Richelieu (see "Gallery"), the Huguenots' worst enemy during the ...
You have reached the end of this Article Preview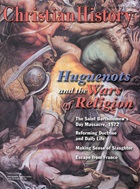 07/01/2001