Reformation on the Run
Because Roman Catholicism dominated the French religious landscape in the sixteenth century, it is easy to forget that some of the most prominent theologians of the Reformed movement were French. Persecuted at home, many of these theologians fled to Switzerland, Germany, or the Netherlands, but they wrote with their beseiged French brethren in mind.
Stirrings of reform
French Reformed thinking can be traced back to Jacques Lefèvre d'étaples (d. 1536), who, in his 1512 commentary on the Pauline epistles, argued for justification by faith. Lefèvre distinguished between a man-centered form of righteousness based on works and a God-centered form based on God's grace through Christ. He also anticipated the foundational doctrine of sola Scriptura, arguing that the Bible is sufficient in matters related to salvation.
Lefèvre emphasized the literal sense of Scripture over the medieval fourfold approach, which emphasized the allegorical interpretation. Also, like Martin Luther, he made great use of the Psalms as prophecies of the ministry and work of Christ. Lefèvre wrote in the preface to his Quincuplex Psalterium, "I have tried to write a short exposition of the Psalms with the assistance of Christ, who is the key to the understanding of David. He is the one about whom David spoke."
In spite of all these ideas that anticipated and predated the Reformation, most scholars do not consider Lefèvre a Protestant. He did, however, set the stage for others.
Some of Lefèvre's students, such as Bishop Briçonnet of Meaux, stayed loyal to the Roman Catholic Church and tried to reform it from within. Briçonnet encouraged everyone in his diocese to read the Scriptures and even financed a new French translation of the Greek Bible. These actions pitted ...
You have reached the end of this Article Preview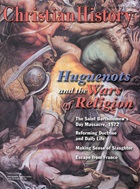 07/01/2001