The Saint Bartholomew's Day Massacre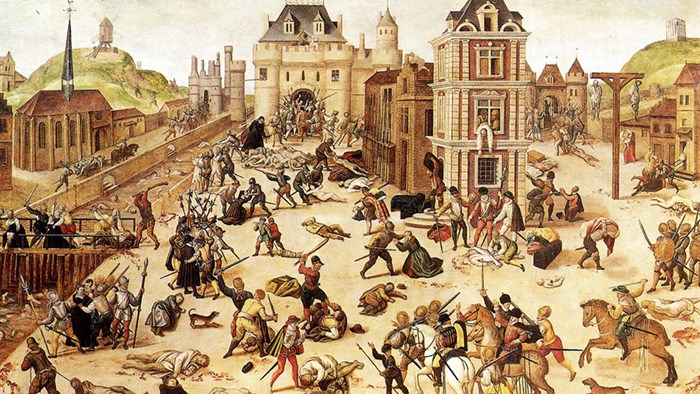 Before dawn on the morning of August 24, 1572, church bells tolled in the Saint-Germain-l'Auxerrois quarter of Paris. Just moments earlier, soldiers under the command of Henri, duke of Guise, had overcome resistance and assassinated the admiral of France, Huguenot leader Gaspard de Coligny, in his bedroom. They threw the body from the window to the ground below, where angry crowds later mutilated it, cutting off the head and hands, and dragged it through the streets of Paris. As Guise walked away from Coligny's lodging, he was overheard to say "it is the king's command."
The killing unleashed an explosion of popular hatred against Protestants throughout the city. In the terrible days that followed, some 3,000 Huguenots were killed in Paris, and perhaps another 8,000 in other provincial cities.
This season of blood—known as the Saint Bartholomew's Day massacre—decisively ended Huguenot hopes to transform France into a Protestant kingdom. It remains one of the most horrifying episodes in the Reformation era.
The dangerous decade
Historians have long debated the causes of the massacres of 1572. Drawing upon Francis Hotman's De Furoribus Gallicis (1573), Protestant interpreters since the sixteenth century have often portrayed Coligny and his coreligionists as heroic victims of a premeditated plot to destroy the Huguenot movement, masterminded by the wicked queen mother, Catherine de Médicis.
Catholic historians, on the other hand, have usually followed the royal interpretation that the king, Charles IX, issued two days after the violence began. In this view, the king and his council ordered the violence as a justified preemptive strike to protect the Catholic crown from a Protestant ...
You have reached the end of this Article Preview