G.K. Chesterton: Christian History Interview - Exactly the Opposite
Philip Yancey credits G.K. Chesterton with helping to save his faith from a bitter encounter with fundamentalism. The power of Chesterton's work also pointed Yancey toward a writing career that has produced such enriching books as Soul Survivor, The Jesus I Never Knew, What's So Amazing About Grace? and Where Is God When It Hurts? We talked to Yancey about what contemporary Christians—especially evangelicals—can learn from the jolly journalist.
You've written that Chesterton helped you recover the joy of faith. How did he do that?
Chesterton believed that a godly way of life is the best way of all ways. It's the way the world is supposed to work, the way the world is meant to be.
Evangelicals often say that Christianity is a "counter-culture." I think Chesterton would probably say, "No, Christianity is the culture. Heretics are the counter-culture."
What we need to do is rediscover the culture. And the culture includes joy and pleasure.
So often, the church is viewed as this finger-wagging, don't-have-fun institution. Those of us who are in it know that that's a caricature, but that is the impression a lot of people have. Chesterton would say exactly the opposite. He would say: "To have fun, live the way God intended life to be lived—the Christian way."
That was very helpful to me, because I came from a fire-and-brimstone, guilt-saturated fundamentalist past. I had never really encountered that positive view of the world. I thought we were supposed to go through life afraid, with our heads down, fleeing anything that smacked of pleasure. And here was a person saying exactly the opposite. So that was an important step in my spiritual journey.
Is Chesterton's positive view of culture related to his Catholicism?
One of Chesterton's ...
You have reached the end of this Article Preview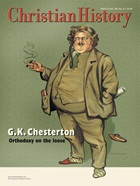 07/01/2002