The Holiness Movement Timeline
Origins
1836 Sarah Worrall Lankford (Phoebe Palmer's sister) founds the Tuesday Meeting for the Promotion of Holiness in New York City. Charles Finney lectures on holiness in New York City. John Humphrey Noyes founds a perfectionist intentional community at Putney, Vermont—precursor to his controversial Oneida (New York) community.
1837 Phoebe Worrall Palmer experiences entire sanctification. Timothy Merritt founds the Guide to Christian Perfection, later Guide to Holiness.
1843 Orange Scott organizes the Wesleyan Methodist Connection at Utica, New York. Phoebe Palmer publishes The Way of Holiness.
1850 The Five Points Mission is founded in New York City by Phoebe Palmer and other Methodist women.
1857 Extensive revivals break out in Ontario, Canada as a result of Phoebe Palmer's ministry.
1858 The Presbyterian W. E. Boardman's fast-selling Higher Christian Life popularizes holiness in non-Methodist terms.
1859 Phoebe Palmer publishes The Promise of the Father, a closely argued biblical defense of women in ministry that would influence Catherine Booth, cofounder of the Salvation Army.
1860 B.T. Roberts and John Wesley Redfield found the Free Methodist Church on ideals of abolition, egalitarianism, and holiness.
Transatlantic revival
1867 The first National Holiness Association (NHA) camp meeting is held at Vineland, New Jersey.
1868 The second NHA camp meeting attracts over 20,000 people to Manheim, Pennsylvania. Many experience it as a powerful "Pentecost."
1871 The Western Holiness Association—first of the regional associations that prefigured "come-outism"—is formed at Bloomington, Illinois.
1874 Hannah Whitall Smith and Robert Pearsall Smith speak in England at the ecumenical Broadlands and Oxford meetings in England for the promotion ...
You have reached the end of this Article Preview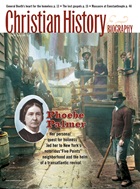 04/01/2004