Mary & Her Baby: Luther's View
On the whole Nativity story: "We must both read and meditate upon the Nativity. … There is such richness and goodness in this Nativity that if we should see and deeply understand, we should be dissolved in perpetual joy. Wherefore Saint Bernard declared there are here three miracles: that God and man should be joined in this Child; that a mother should remain a virgin; that Mary should have such faith as to believe that this mystery would be accomplished in her. … Truly it is marvelous in our eyes that God should place a little child in the lap of a virgin and that all our blessedness should lie in him. And this Child belongs to all mankind. God feeds the whole world through a Babe nursing at Mary's breast. This must be our daily exercise: to be transformed into Christ, being nourished by this food."
On Mary: "There was a poor young wife, Mary of Nazareth, among the meanest dwellers of the town, so little esteemed that none noticed the great wonder that she carried."
On the journey: "How many great ladies and their daughters there were at that time, living in luxury, while the mother of God, on foot, in midwinter trudged her weight across the fields! How unequal it all was!"
On the birth: "There she was without preparation: no light, no fire, in the dead of night, in thick darkness. No one came to give the customary assistance. The guests swarming in the inn were carousing, and no one attended to this woman. … There was the maid of fifteen years bringing forth her first-born without water, fire, light, or pan, a sight for tears!"
On the newborn Jesus: "They must have marveled that this Child was the Son of God. He was also a real human being. Those who say that Mary was not a real mother lose all the joy. He was a true Baby, with flesh, blood, hands and legs. He slept, cried, and did everything else that a baby does only without sin."
On Mary after the birth: "Think, women, there was no one there to bathe the Baby. No warm water, nor even cold. No fire, no light. The mother was herself midwife and the maid. The cold manger was the bed and the bathtub. Who showed the poor girl what to do? She had never had a baby before. I am amazed that the little one did not freeze. Do not make of Mary a stone. It must have gone straight to her heart that she was so abandoned. She was flesh and blood, and must have felt miserable-and Joseph too-that she was left in this way, all alone, with no one to help, in a strange land in the middle of winter. Her eyes were moist even though she was happy, and aware that the Baby was God's Son and the Savior of the world."
"Mary was not only holy. She was also the mother of the Lord. With trembling and reverence, before nestling him to herself, she laid him down, because her faith said to her, 'He will be "the Son of the Highest."' No one else on earth had this faith, not even Joseph, for although he had been informed by the angel the word did not go to his heart as to the heart of Mary, the mother."
Excerpted from Martin Luther's Christmas Book translated by Roland H. Bainton © 1948 The Westminster Press. Used by permission of Westminster John Knox Press.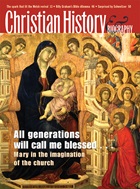 07/01/2004