Pure & Simple
Our congregation gathered for worship on a beautiful September Sunday morning at the Conley farm in western Lancaster County, Pennsylvania. This was the fourth of a series of weekend meetings we call "love feast"—the high point of our church year. An intense spiritual experience, the series culminates on Saturday evening as the plainly dressed, bearded brothers and the sisters in their capes, aprons, and snow white head coverings wash one another's feet. Then, positioned around long wooden tables, they exchange the kiss of peace and pass the bread and cup of Communion in a complete circuit.
"Having meeting"
All of this takes place in a spacious Pennsylvania "bank" barn, built in 1876. The barn had been merely an agricultural building until, a few days before the services, a crew of the brethren had attacked it with brooms and blowers, preparing it to house more than 200 worshipers. Now the congregation gathered here for four separate services of preaching, singing, and testimonies totaling more than ten hours. The heartily sung but slow a cappella melodies of the brothers and sisters rose to the rustic rafters. To many of those assembled, this was as inspiring as a trained choir in an ornate cathedral.
If asked, none of the members would say the barn had "become a church." Neither would they say they were "going to church" when they gathered for their regular weekly worship services. Instead they might say "the church was having meeting" in the barn. The brothers and sisters of like precious faith are the church, and not having a regular building for their worship accentuates this fact. Although this congregation has many of its meetings in their school close by, the families of the brotherhood take turns sponsoring the meeting, ...
You have reached the end of this Article Preview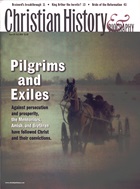 10/01/2004