Shaken Up by the Peace-Lovers
Nothing restores one's sanity like a little peace and quiet. As my colleague Steve Gertz and I rode through Lancaster County, Pennsylvania in the car of our host Steve Scott, the peacefulness of "Amish Country" refreshed us like a tonic.
Granted, faced with the near-perfect tranquility of the rolling fields, neat houses, and slow-moving black buggies, I did begin to get fidgety—looking around for a manuscript to edit or a layout to proof. But the sensation of being away from the "shot-out-of-a-cannon" life of publishing in the Chicago suburbs was nonetheless a pleasant one.
As he drove, Steve Scott, the administrative assistant of the Young Center of Anabaptist and Pietist Studies at Elizabethtown, Pennsylvania, regaled us with "silly tourist stories"—like the one about the lady who, rebuffed by an Amish farmer when she demanded that she have her picture taken with him, threatened to call the police because this costumed fellow wasn't "doing his job."
And it occurred to me that a countryside that seemed so peaceful to me might contain its share of interruptions and frustrations for its inhabitants.
But how to get beyond such "outward" observations about the Amish and their Anabaptist kin—the "costumed" farmers, buggies, barn-raisings, and prospering farms—to these groups' roots, beliefs, and worldview? This was our task at the Young Center, where we met to plan this issue with some of the foremost scholars of these movements.
Early on, our hosts at the center— Steve, director David Eller, Brethren historian Donald Durnbaugh, and historian of the Amish Donald Kraybill—convinced us that an excellent way to communicate the inner workings of the Anabaptists was to ask Anabaptists to write our articles.
This we have done in most ...
You have reached the end of this Article Preview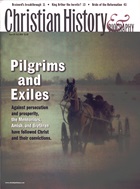 10/01/2004