Christianity Fever
For more than 100 years, China's tiny cultural elite has wrestled with the role of Christianity in society. Traditional scholars educated a century ago in state-sponsored Confucianism tended to reject Christianity as a foreign teaching. But the new professionals of the 1910s and '20s, as well as the growing middle class in the last 20 years, have been attracted to Christianity as a way to build a strong modern China. Their initial question is often "What can Christianity do for China?" For some, this utilitarian approach becomes a personal spiritual journey. The pattern has been a tidal wave of interest in times of political upheaval, followed by a low tide, often due to anti-Western nationalism. The third of these high tides is surging in Chinese society today.
The Golden Age of Protestantism
One hundred years ago, scholar-officials lost hope for reviving the Qing dynasty. Since China had to compete with the West on its own terms to survive as a nation, families began to send their children to Western-style, often Christian, schools in China and the U.S. The modern education offered English, science, and new professions such as medicine, law and journalism. A Christian moral curriculum was often an intrinsic part of the package.
The YMCA brought in Western lecturers on science and social issues, attracting the general public as well as students. Christian voluntary associations led movements against social evils like foot binding and the opium trade and offered social services to poor farmers and migrant workers. T. M. Fan, a Chinese reformer, was the editor of popular Christian magazines that promoted character building and public morality.
The 1911 Revolution, which established the Republic of China, was led by a Western-educated ...
You have reached the end of this Article Preview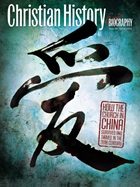 08/08/2008