Thomas à Kempis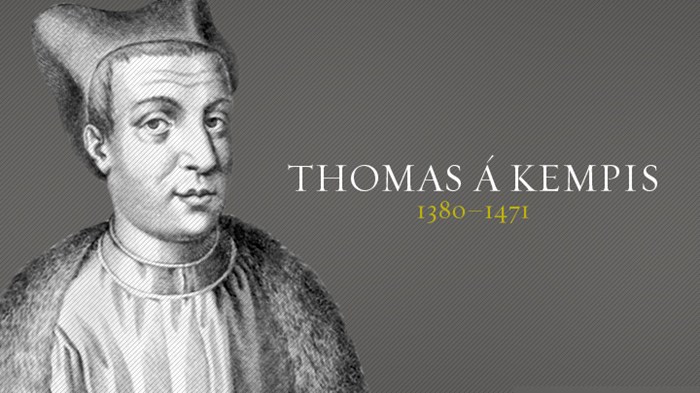 "We must imitate Christ's life and his ways if we are to be truly enlightened and set free from the darkness of our own hearts. Let it be the most important thing we do."
Sir Thomas More, England's famous lord chancellor under Henry VIII (and subject of the film A Man for All Seasons) said it was one of the three books everybody ought to own. Ignatius of Loyola, founder of the Jesuits, read a chapter a day from it and regularly gave away copies as gifts. Methodist founder John Wesley said it was the best summary of the Christian life he had ever read.
Timeline

1370

Catherine of Siena begins her Letters

1373

Julian of Norwich receives her revelations

1378

Great Papal Schism begins

1380

Thomas à Kempis born

1471

Thomas à Kempis dies

1479

Establishment of Spanish Inquisition
They were talking about Thomas à Kempis's The Imitation of Christ, the devotional classic that has been translated into over 50 languages, in editions too numerous for scholars to keep track of (by 1779 there were already 1,800 editions).
Little is known of Thomas himself, and he is known for little else—although this one contribution to history seems to be enough.
Humility first
Called the "calamitous century," the fourteenth century into which Thomas Hemerken was born felt the shadow of the apocalypse. Constant wars and repeated bouts of the Black Plague drove population down. The Great Schism tore the church apart, seating one pope in Rome and another in Avignon. In rural areas, roving marauders knew no restraints, and peasant revolts kept urban centers reeling with confusion.
Early on Thomas gave himself to a Dutch Augustinian monastery associated with a group called The Brethren of the Common Life. There he became the prior's assistant, charged with instructing novices in the spiritual life. In that capacity, he wrote four booklets between 1420 and 1427; they were collected and named after the title of the first booklet: The Imitation of Christ.
In The Imitation, Thomas combines a painfully accurate analysis of the soul with a clear vision of the fullness of the divine life. He does not describe the spiritual life in a linear way, as if one step precedes another, but instead repeats and embellishes themes, like a symphonic composer.
In the first treatise, "Useful reminders for the spiritual life," Thomas lays out the primary requirement for the spiritually serious: "We must imitate Christ's life and his ways if we are to be truly enlightened and set free from the darkness of our own hearts. Let it be the most important thing we do, then, to reflect on the life of Jesus Christ."
The highest virtue, from which all other virtues stem, is humility. Thomas bids all to let go of the illusion of superiority. "If you want to learn something that will really help you, learn to see yourself as God sees you and not as you see yourself in the distorted mirror of your own self-importance," he writes. "This is the greatest and most useful lesson we can learn: to know ourselves for what we truly are, to admit freely our weaknesses and failings, and to hold a humble opinion of ourselves because of them."
Furthermore, humility leads us to embrace the path of suffering: "Plan as you like and arrange everything as best you can, yet you will always encounter some suffering whether you want to or not. Go wherever you will, you will always find the cross… God wants you to learn to endure troubles without comfort, to submit yourself totally to him, and to become more humble through adversity."
Trust not yourself
Thomas goes on to tell his novices how to handle criticism, failures, sensual desires, and the difficulties of obedience—always with an eye to the paradoxes of the deeper Christian life. For example, in chapter 20 of the first book, he writes, "If you aim at a fervent spiritual life, then you too must turn your back on the crowds as Jesus did. The only man who can safely appear in public is the one who wishes he were at home. He alone can safely speak who prefers to be silent. Only he can safely govern who prefers to live in submission, and only he can safely command who prefers to obey."
The first two treatises are written as sermons or reflections. In the third treatise, "Of Inner Comfort," Jesus and the Disciple talk together about the spiritual life, and in the fourth treatise, "The Book on the Sacrament," Thomas discusses how the Eucharist can help the faithful draw nearer to Christ.
Throughout the book, Thomas's advice is consistent: Do not trust yourself, do not indulge yourself, do not put yourself forward; instead put your full trust in God and, out of love for God's will, yield to all the circumstances of life into which God places you.
The Imitation was published in Latin, French, German, Spanish, Italian, and English by the end of the fifteenth century, and it remains one of the most popular devotional guides to this day.