Johann Sebastian Bach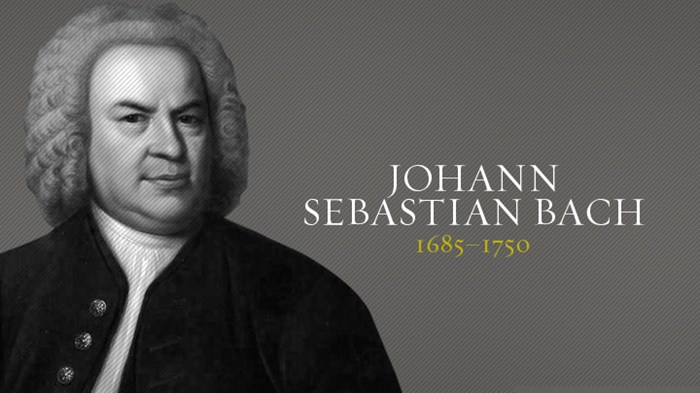 "At a reverent performance of music, God is always at hand with his gracious presence."
When he was 48, Johann Sebastian Bach acquired a copy of Luther's three-volume translation of the Bible. He pored over it as if it were a long-lost treasure. He underlined passages, corrected errors in the text and commentary, inserted missing words, and made notes in the margins. Near 1 Chronicles 25 (a listing of Davidic musicians) he wrote, "This chapter is the true foundation of all God-pleasing music." At 2 Chronicles 5:13 (which speaks of temple musicians praising God), he noted, "At a reverent performance of music, God is always at hand with his gracious presence."
As one scholar put it, Bach the musician was indeed "a Christian who lived with the Bible." Besides being the baroque era's greatest organist and composer, and one of the most productive geniuses in the history of Western music, Bach was also a theologian who just happened to work with a keyboard.
Early genius
He was born and schooled in Eisenach, Thuringia (at the same school Luther had attended), part of a family that in seven generations produced 53 prominent musicians. Johann Sebastian received his first musical instruction from his father, Johann Ambrosius, a town musician. By age 10 Bach was orphaned, and he went to live and study with his elder brother, Johann Christoph, an organist in Ohrdruf.
By age 15 Bach was ready to establish himself in the musical world, and he immediately showed immense talent in a variety of areas. He become a soprano (women weren't permitted to sing in church) in the choir of Lüneburg's Church of Saint Michael. Three years later, he was a violinist in the chamber orchestra of Prince Johann Ernst of Weimar. After a few months, he moved to Arnstadt to become a church organist.
Timeline

1667

John Milton's Paradise Lost

1668

Rembrandt paints Return of the Prodigal Son

1675

Spener's Pia Desideria advances Pietism

1685

Johann Sebastian Bach born on March 21st

1750

Johann Sebastian Bach dies on July 28th

1759

Voltaire's Candide
In October 1705, Bach was invited to study for one month with the renowned Danish-born German organist and composer Dietrich Buxtehude. Bach was so enamored with his teacher, he stretched the visit to two months. When he returned to his church, he was severely criticized for breach of contract and, in the ensuing weeks, for his new organ flourishes and harmonies that accompanied congregational singing. But he was already too highly respected to be dismissed.
In 1707 he married a second cousin, Maria Barbara Bach, and went to Mülhausen to become organist in the Church of Saint Blasius. After various moves and prominent jobs, he finally settled down in Leipzig in 1723, where he remained for the rest of his life.
Maria died in 1720, and the next year he married Anna Magdalena Wilcken, an accomplished singer. She bore him 13 children, in addition to the seven he'd had by Maria, and helped copy his music for performers.
Bitter setting, brilliant work
Bach's stay in Leipzig, as musical director and choirmaster of Saint Thomas's church and school, wasn't always happy. He squabbled continually with the town council, and neither the council nor the populace appreciated his musical genius. They said he was a stuffy old man who clung stubbornly to obsolete forms of music. Consequently, they paid him a miserable salary, and when he died even contrived to defraud his widow of her meager inheritance.
Ironically, in this setting Bach wrote his most enduring music. For a time he wrote a cantata each week (today, a composer who writes a cantata a year is highly praised), 202 of which survive. Most conclude with a chorale based on a simple Lutheran hymn, and the music is at all times closely bound to biblical texts. Among these works are the Ascension Cantata and the Christmas Oratorio.
In Leipzig he also composed his epic Mass in B Minor, The Passion of St. John and The Passion of St. Matthew—all for use as worship services. The latter piece has sometimes been called "the supreme cultural achievement of all Western civilization," and even the radical skeptic Friedrich Nietzsche (1844–1900) admitted upon hearing it, "One who has completely forgotten Christianity truly hears it here as gospel."
Bach revival
After Bach's death, people seemed glad to wipe their ears of his music. He was remembered less as a composer than as an organist and harpsichordist. Some of his music was sold, and some was reportedly used to wrap garbage. For the next 80 years his music was neglected by the public, although a few musicians (Mozart and Beethoven, for example) admired it. Not until 1829, when German composer Felix Mendelssohn arranged a performance of The Passion of St. Matthew, did a larger audience appreciate Bach the composer.
In terms of pure music, Bach has become known as one who could combine the rhythm of French dances, the gracefulness of Italian song, and the intricacy of German counterpoint—all in one composition. In addition, Bach could write musical equivalents of verbal ideas, such as undulating a melody to represent the sea.
But music was never just music to Bach. Nearly three-fourths of his 1,000 compositions were written for use in worship. Between his musical genius, his devotion to Christ, and the effect of his music, he has come to be known in many circles as "the Fifth Evangelist."