Clyde Cook, the recently retired president of Biola University, died April 11. He was 73.
Known for several years as "Mr. Biola," Cook served as one of the nation's longest-serving university presidents, leading the California university from 1982 to 2007.
Cook faced enormous challenges when he took the helm. A budget shortfall of 37 percent forced him to cut $1.3 million. And just two years into his presidency, he had a major heart attack at the age of 49. Also, Biola's enrollment dropped from 3,181 in 1980 to 2,566 in 1989.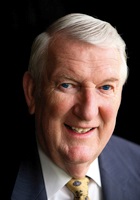 However, Biola's enrollment has nearly doubled to 5,752, and the university added 20 acres to the campus and nine extension sites. Cook handed the reins to Barry H. Corey last summer. The university celebrated its centennial in February, and the Los Angeles Times wrote about how Biola has both evolved and stayed the same.
"When Ken Bascom arrived at Biola College in 1967 to work on his master's degree in history, his fellow students, almost all white, stuck to a strict dress code and had a 10 p.m. curfew on weeknights," wrote reporter Tiffany Hsu. "Last weekend, a multicultural throng of students, several with dyed hair, piercings or tattoos, celebrated the centennial of the private evangelical school – a university since 1981 – at a rock concert that extended into the early morning."
The New York Times featured Biola in 2004, when Samantha M. Shapiro wrote, "Evangelical Christianity's dance with secular culture has always been a complicated one." In the early 20th century, Biola sponsored a series of pamphlets called "The Fundamentals," which laid out the principles of the fundamentalist movement. The pamphlets opposed biblical and theological modernism, naturalism, Darwinism, and democratic socialism.
"When I spoke with Clyde Cook, Biola's genial president, he explained that the university is as committed as ever to the principles articulated in 'The Fundamentals,' although, he said, 'we've found different and more effective ways to deliver those truths.' ... [T]he school thinks it is preferable to have students internalize Christian truths through a process of questioning."
The Chimes, Biola's student newspaper, created a blog for people to share their memories of Cook.
"If it's possible for a man who towered over most people physically to walk gracefully and humbly, Clyde Cook had mastered it," wrote Chimes Features Editor Mitchell Young. "If there's one image I will always remember, it's a man whose list of accomplishments could fill books (and probably has) sitting at a crooked Caf table and eating with plastic silverware on one of the days that the Caf decided to give its dishwashers a day off."