Broadcaster Pat Robertson announced his plans to retire next summer as president of Regent University, the school said today.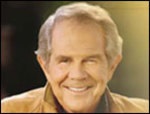 Robertson, 79, will retire July 1, 2010 and continue to serve as chancellor and on the board of trustees at the 4,500-student, Virginia-based school.
"As chancellor and a trustee, I will now focus on helping guide the university toward the next level of strategic growth and the implementation of our master plan," he said in the statement.
A newly appointed search committee will name a new president by the fall semester of 2010, according to the release.
Robertson founded numerous organizations, including the American Center for Law and Justice, the Christian Broadcasting Network, and the Christian Coalition. He unsuccessfully campaigned to become the Republican Party's nominee in the 1988 presidential election but became widely known as a leader for the Christian right.