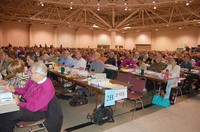 As expected, the Evangelical Lutheran Church in America adopted the following resolution:
"Resolved, that the ELCA commit itself to finding ways to allow congregations that choose to do so to recognize, support, and hold publicly accountable life-long, monogamous, same gender relationships."
The vote was 619-402.
Update: Late this afternoon, the assembly also voted 559-451 to allow "people in such publicly accountable, lifelong, monogamous, same-gender relationships to serve as rostered leaders of this church."
Much of the debate was not over sexual orientation but rather on sexual relationships and activity.
Delegate Al Quie, the former governor of Minnesota, had offered a resolution earlier in the day: "Rostered leadership of this church who are homosexual in their self understanding are expected to abstain from homosexual sexual relations and practicing homosexual persons are precluded from rostered leadership in this church." (That resolution was defeated.)
"We are today part of a church denomination that is changing, and it will make possible sexual moral standards that are contrary to the Bible — which is what brings Jesus closer to us," Quie said (he was quoted by the Associated Press).
There's another vote tonight on a resolution outlining some of the specifics in which the church will make allowances for members and clergy "in a publicly accountable, lifelong, monogamous, same-gender relationship." But given the outcome of the other votes this week, it's sure to pass.