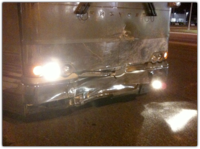 MercyMe's tour bus collided with a car on Friday in Indiana, leaving the driver's unborn baby and two passengers dead.
Singer Bart Millard and drummer Robby Shaffer used Twitter to get the word out shortly after the accident. Millard tweeted that evening:
Car just hit our tour bus. We are ok, but 2 of the 3 in the car did not make it. The one that did is pregnant. Please start praying.
The band canceled their concert scheduled for Saturday, August 8 at Six Flags Saint Louis (it was rescheduled for September 5), but the band will play tonight at the Wisconsin State Fair.
The band posted a picture of the front of their bus on their blog but took it down.
Please join with us in praying for the families of the car that hit our bus last night. Our hearts break for their families.