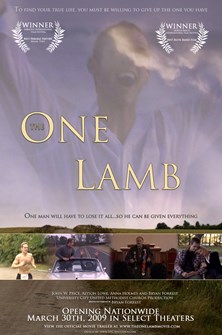 Sherwood Baptist Church in Albany, Georgia, has made quite a name for itself by making low-budget movies that went on to become major box office hits – Facing the Giants and Fireproof.
Other churches are following suit, making films of their own, including University City United Methodist Church of Charlotte, NC. The One Lamb, in production for three years, opens in 100 theaters and in 34 states on March 30. (Yes, that's a Monday, and not the typical Friday theatrical release. Perhaps they didn't want to compete with big budget blockbusters that open on the weekend.)
For what it's worth, the press release promises a film that depicts "an inspirational story of hope and redemption . . . [capturing] the elements of life transforming films such as Chariots of Fire and the recent Fireproof, telling the poignant story of the rise and fall of a promising campaign manager/lawyer . . . who is battling cancer and competes in the New York City Marathon as part of a personal spiritual rebirth. Although [he] is facing an enormous battle against the cancer rapidly destroying his life, his biggest struggle is the fight against the mistakes of his past. He is befriended by a cranky, retired pastor who helps find redemption for his past failures and hope for his future."
To see if it's playing near you, click here.